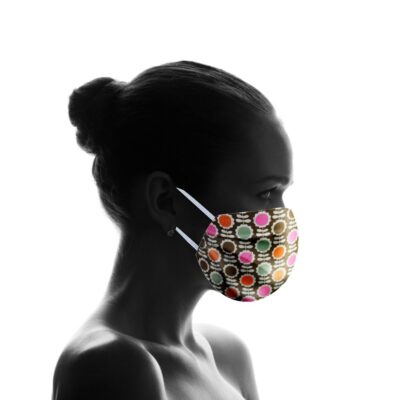 Handmade face masks are made of cotton/cotton blends fabrics, are reusable, washable, and fashionable. My face masks features three layers for extra protection and are sewn imitating a surgical mask, pleated, and expandable to cover the nose, mouth, and chin areas. These contains ear loops for comfort.
IT DOES NOT HAVE WIRES, METAL, OR SHAPE MOLDINGS AROUND THE NOSE AREA.
Due to the handmade nature of this item, no masks are exactly like the others, there may be small variations in pattern and pleating.
One size fits most adults.
"I am very pleased with the mask. Great quality and beautiful. It also fits very comfortably. Loved it so much, I ordered another mask :)" – Tina
Please note, this is a non-surgical mask, designed for personal protection, physical barrier following CDC guidelines:
"…wearing cloth face coverings in public settings where other social distancing measures are difficult to maintain (e.g., grocery stores and pharmacies), especially in areas of significant community-based transmission."
The CDC also advises the use of simple cloth face coverings to slow the spread of the virus and help people who may have the virus and do not know it from transmitting it to others. Cloth face coverings fashioned from household items or made at home from common materials at low cost can be used as an additional, voluntary public health measure.
"Cloth face coverings should not be placed on young children under age 2, anyone who has trouble breathing, or is unconscious, incapacitated or otherwise unable to remove the mask without assistance."
Subscribe to our free newsletter
Praesent nec ex eget nulla porttitor cursus. Orci varius natoque penatibus et magnis dis parturient montes, nascetur ridiculus mus. Nunc ac imperdiet lectus. Etiam vestibulum nunc orci, ut ultrices tortor placerat at.